another ue5 beta error
Updates Installation
Hi All!
Getting this error, can anyone help? THANKS <3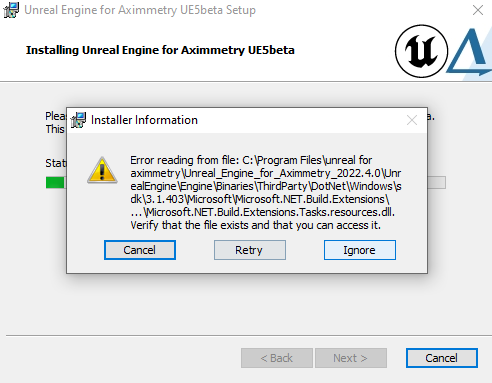 Hi,
We have released Unreal 5 for Aximmetry in version 2022.5.0. This error should be fixed in that version.

Otherwise, you might have run out of space in the installation of Unreal 5 beta. And you might need to install NET Core 3.1 Desktop Runtime for Unreal 5 beta: https://dotnet.microsoft.com/en-us/download/dotnet/3.1
Warmest regards,


Hi Eifert,
THanks for your reply, the install works now but we are still getting the global shader library error when importing a cooked scene into aximmetry.
We have the latest NET core, we are downloading the 2022.5 unreal for aximmetry as we speak.
Thanks

Guess we downloaded unreal for aximmetry for unreal 4.. can you please point out where to download the new unreal for aximmetry for unreal 5 you mentioned? We are having a shoot in an hour and it would be awesome if we can get this fixed quickly. Thank you very much.


Thank you for the quick reply! We couldnt find it in our licenses page but are installing it through the general aximmetry installer, is that gonna work? Ive read some comments on this forum about the seperate unreal installer being better..
Thanks again.
Best regards <3

Hi,
We had some troubles with the general installer in Unreal 5 beta. But it should be fixed by now.
We have separate installers for everything because some users want to install Aximmetry on computers without an Internet connection.
Warmest regards,


We have it fixed now! Thank you very much.
Final question, does live link work in cooked mode?
It works in the unreal editor for aximmetry but nog in cooked...
Thanks!


Hi.
Here's my situation
- downloaded 2022.5.0 from my downloads.
- installed Net core 3.1.3.1
- installed pre-requisite in .7z file
- win11 x64 version
I faced the same errors(4 errors I recall) and ignored them all. The program launches fine but I don't think that it's installed properly.
How am I going to handle this situation?
Best Regards,
Soohyun

Hi,
If you faced the same errors and you installed Net core afterward, you should be fine in theory. As the error in the screenshot of the first post is related to installing the Net code.
Otherwise, you can try reinstalling everything using just the Aximmetry installer.
Warmest regards,